Okay, so the title might be a little dramatic.
happy photos from last week's show to brighten things up.
I should also warn that there may be swearing in this post.
This weekend Carmen and I headed back to Five Fires for a 2 day show. I have to say I was my most relaxed heading to this show. By now I had my packing to a science (well a really thorough list, which is sort of like science). That morning I took her for a light hack and a short ride in the ring.
We arrived in great time and Carmen settled in well. I rode her that night in the ring and she had some concerns about an open door and the freaking ramp (oh the irony that I could get her to walk on that ramp but not go by it), but it really wasn't a big deal and we had a good and short session.
Saturday we had early ride times and our warm up was pretty good. I was happy with both of our tests. While they were not brilliant they were steady and calm and netted us a second and third place in our class. She could have definitely been more from behind and I wanted to build on that for Sunday.
Sunday morning was rainy and still warm. In the warm up ring Carmen was pretty relaxed and I was focussing on getting her marching and staying relaxed. It was going really well when I saw a gentleman walking his dogs down by the ring and into the woods path. And he had an umbrella. I felt the hamster falter on the wheel in Carmen's brain. Carmen saw him too and I called to have him speak so she could know he was a person. We went back to work when she spied him further off and the hamster started to fall off the wheel. I kept working her trying to keep her focus on me and stick the fucking hamster back on the wheel. Sort of successfully.
Then he came back.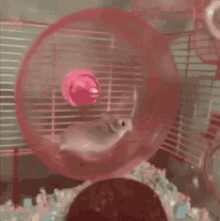 Carmen's brain
Carmen began to spin a bit and I tried to bend her but it was no go.
aaaand we're bolting
I said. I was surprised by how calm I was but I wanted to give the other rider a heads up that my steering had gone to crap. She was great and gave us space and said '
tell me what you need'.
I rode it out and got her back and then decided to hop off and walk her over to the guy who was kind and let us walk up and talk to him.
I headed back to the warm up and tried to talk the hamster back on to the wheel but it was not successful at all. We had a number of bolts, some spins and general lalalala-I-can't-hear-you. In the end I headed up to the ring for my test thinking maybe being inside would be better. And it was. Sort of. We had a couple issues at the door and ramp - but to be honest she was not scared of the ramp while she was genuinely nervous of the door. But we rode through it.
I dismounted and grabbed my lunging equipment to head back to the warm up. I only had about 30 minutes before my next ride and I needed to get her brain back. So I lunged her and got her back to focussing on me. I then mounted and we had a really good warm up ride. She was listening and on the aids. I felt much better going back for test two.
Carmen hit the ring and was done with this shit.
At the end of that clip I am telling the judge that I am scratching but I
really
want to ride that circle. She was great and coached us on working through it. She also said that sometimes it's better to cut the circle and lose the point then have the battle.
Which is true. But I know my mare and I know that if I caved at that corner it would get bigger and bigger until we couldn't go past E. I explained that and she looked skeptical but I know my mare and I know that once she gets an idea in her head you need a crow bar to get it out. In the end we rode our circle and it was time for the next person to come in.
I was bummed.
Believe it or not it was the first time I had ever scratched from a class at a show. It was the right call but I was still bummed.
I did some thinking and went to the show secretary and asked if I could take Carmen in the ring over the lunch break. I was done all my classes but I wanted to tackle things again. She agreed and when I went in announced to everyone what I was doing so that they didn't all pile in or think I was taking advantage.
I started working her in hand getting her focus and then I got on. By then I had gathered a crowd of supporters cheering us on. I wasn't sure how I felt at first but I then just focussed on Carmen and we went to work. She wasn't easy but not at her worst. In the end I rode my test through because, by god I wanted to finish it. I have no idea how it looked but at the end of the day the judge came up and said
'you did much better at lunch time'
. That was because I could work through it. The steward gave me a hug and said I did great. Everyone was so supportive that it was uplifting.
I had earned a blue ribbon for my first test (second out of two riders lol, but I worked hard for that ribbon and was proud of it).
On the way home, in the quiet of the truck all those voices in the back of my head came out to play.
You know those voices. the ones that whisper:
you suck as a rider. A better one could have dealt with all that
You will never get any better as a pair
See, I know she hadn't improved.
Last week was a fluke.
sometimes we don't suck
I let them have some play but the drive was awful in terms of weather- torrential rain for the first half which is totally not fun when you're hauling a trailer.
I got home and unloaded Carmen. Who immediately started throwing her weight around trying to graze and run by me and push me around. I was having none of it. I needed to hose the dried sweat off her and she was fucking going to stand still and not shove me while I did it and I didn't care that she was
starving
. It didn't take long for her to be very quiet and still while I finished. Ed came out and was so very supportive. I headed in to take a shower (nothing feels better than a shower after a horse show) and he cooked supper while I fed the horses. After he helped me empty and clean the trailer. I do love this guy.
So I have to figure this out. Carmen has a 'nope' in her and it's dangerous. It's getting more and more rare so I hope that this means it's on it's way out. I also see a pattern that she's less willing on the second day of the show and I need to figure out how to help her with that. Maybe maturity. I don't really want to go to showing just one day. I'm not sure that that's the answer. Now I'm wondering if I should go to the show in September.
Thank you for listening to me vent. This blog is useless if I just talk about the fun stuff and not the shitty stuff.