It is no secret that I hate the time change. If I had the power we'd stay on the 'summer hours' clock but, alas, I don't have that kind of power. Riding and other horse related activities has to fit in with work, weather and daylight. This means that I'm not getting a lot of time in the saddle.
Quaid's first time in his mainsheet. I was pleasantly
surprised that he didn't chew it to bits
This would, in the past, cause me a lot of aggravation. This year, I'm a little more philosophical about it, for a couple of reasons. One is that I have *almost* silenced that voice in my head that chastises me about not riding and training. It's not completely silent and I do sometimes let it creep in.
The other is that I have given notice that I will be retiring the end of March. So knowing that I won't have this issue next year helps a lot.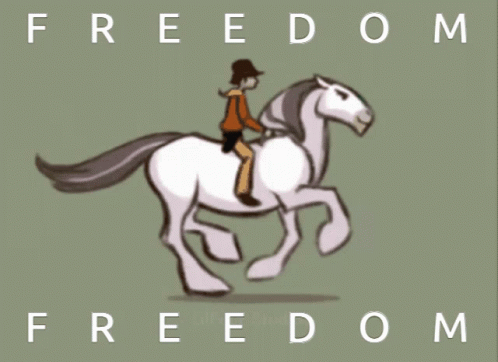 my vision for April (perhaps don't tell Carmen 'kay?)
The temperatures have been fairly mild so I am trying to get some time in the saddle, even if it's brief. But I am still largely limited to the weekend. If the weather cooperates. Last Saturday was horrible- cold and gusty but Sunday was lovely. I managed to get both horses worked and a crapload of farm chores done. That night I slept like the dead.
Carmen is embracing her inner mud Queen
Or she's trying to see if she can discourage me from getting ideas
I took Quaid for a 'hack' in the woods. He was totally chill
even with Carmen yelling in the field
We'll see if I can hang on to my zen outlook. It is typically the time of year when I dream of winning the lottery so I can build a small indoor. Of course my failure to even buy a ticket is the fatal flaw in that plan (well one of the flaws).
This warm weather results in more sweat
How do you manage the winter? Does the time change affect you?