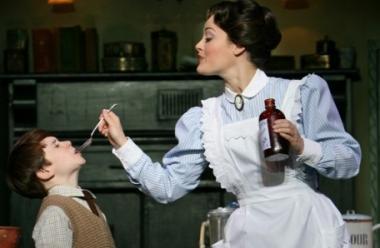 Full Confession- I have loved Mary Poppins since I was a child. Loved the books (although I haven't read them in decades) and adored the movie. A couple years ago we went to a local theatre putting in on and it was fabulous.
I was pretty much laid out after the ride on Sunday (the really flu kicked my butt and I was unable to return to work until Weds). Sunday night Ed asked me why I went.
Weren't you having trouble with her?
Yes I said
but things have been better since I started treating her for ulcers.
I explained what I had been seeing and when I thought it all started. He listened carefully and nodded. I said that I was going to call the vet to discuss perscription meds.
It's not like you can stop showing her or going to clinics.
No. Well
(I stopped, thinking that he was asking me),
I could but....
No,I mean that of course you're not going to stop going to shows and clinics.
Isn't he awesome? On Monday I called my vet and outlined what my concerns were. He listened, asked some questions and then agreed that it sounded very plausible that Carmen had ulcers. I had two alternatives 1) take her to the next province to the vet college (a long haul) for a scope or 2)treat and see if it made a difference.
I opted for door #2. Partly to save money, partly to avoid the stress of a long haul (I've never done one before) and mostly to save Carmen the stres of the procedure. My vet was fine with that. Can I just say that I love that my vet returns calls and is willing to consult over the phone with no fee?
Two hours later I had a call that my perscription was ready and Ed went to pick it up.
this represents a lot of saddle pads.....
Ed told me the cost and then shrugged and said '
well it's not like it was optional. She needs it
. And I am fortunate, because our vet's stock a 'generic' omeprazole in place of Ulcer Guard. Still it is not cheap. The bottle of Sucralfate is almost $200. The tubes are 4 weeks of treatment (combination of Omeprazole and Aloe Vera).
The plan is: 5 days of Sucralfate (2 doses a day not with meals) and one tube of ucler treatment at least 2 hours from the sucralfate.
I looked at this and had reservations. You see when I first had Carmen deworming her was an adventure. She was very resistant. I now had her that she tolerated it but I looked at this and thought oh dear. I can see where 5 days of three tubes a day was likely not going to go over well.
I filled up the syringe they gave with the 50 ccs of Sucralfate, grabbed a halter and an apple and headed out to the field to give her her dose before dinner. It's not that Carmen was bad, she wasn't. But there was a lot of head tossing. That, coupled with the fact that the syringe was too big for me to use one handed and that the liquid was very thin, resulted in both of us being flecked with the medication but I was reasonably sure that at least some had gotten in. Fortunately it has a light vanilla flavour (yes I tasted it, not compltely voluntarily).
Irish watched this fascinated. I could see him thinking hey, I'm the one who usually gets the special treatment. What's going on here?!
The tube of Omerpazole was much easier and she took it without fuss. But I realized that I needed a better method. The vet was clear that she couldn't have it with her feed. Also, there's no way that she's taking it on an empty stomach because she's out grazing all day and has a slow feed hay net at night. Really, other then posibly in the morning, she does not have an empty stomach. And that is not recommended for horses with ulcers anyway.
Realizing that it tastes kind of sweet in the morning I tried putting in her dish to see if she would slurp it up. She stuck her nose in it and then looked at me with a milky mustache and a quizzical expression. So I dumped her fat and fibre pellets on top and she ate it all.
That morning I did some more thinking. I realized that I had some hay nuggets that I've been giving them at night (in place of the beet pulp). I've been thinking of transitioning Carmen over to those exclusively but haven't made up my mind. They can be fed as a hay replacement or in addition to hay. They are balanced with vitamins and minerals so you don't have to worry. So that morning I soaked a few nuggets and in the afternoon (about an hour before dinner) I added in the liquid medication and stirred it. I took it out to Carmen and she gobbled it down (don't worry I fed Irish an apple while she ate. He's even more confused then ever now). My thinking was that if it's okay for her to have it and eat hay, then it should be okay to have it with hay. Feel free to pile on and tell me I'm wrong but I think my logic is sound. And it's not interfering with her taking the Omeprazole treatment
We're on day 3 and I can see a real change in Carmen. It could be a placebo effect but this is what I see:
she's not tearing into her food like before. She used to 'attack' her hay net and feed quite aggressively. You could hear the hay hoop rattle as she pulled on it. Now she nibbles without the franticness. Same with her morning and evening rations.
She's not as uptight and tense. Far more relaxed.
she comes up to me in the field and when I'm walking the dogs rather than ignore me.
She's just softer overall. Now I don't think that she will become a Magical Zen Unicorn.
you can find anything with google!
But seeing her look content and relaxed is lovely. Here's a shot that warmed my heart:
Let me tell you what the big deal is about this photo. Carmen is in a section of the field that she has refused to go into for the last 3 years. She's surrounded on 3 sides by brush and it's blowing. Can you see Irish looking into the next field? That's because there's a giant doe there also eating. Carmen looked at it, shrugged and went back to eating. The dogs are running in and out of the bushes as we walk and she gives zero fucks. She has ventured into this part of the field before but she also zooms away when we come walking by and I've never seen her that far in.
I have not ridden her. Even if I wasn't sick I wanted to give things a chance to settle. When I do start back it will be light and easy and I will monitor.