My day job is as a manager in Health care. I pride myself that I am not a micromanager. I believe that people know their jobs and often know the best way to get it done. In keeping with my Star Trek metaphors I am more of a Picard: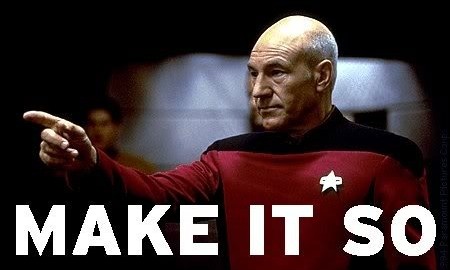 I tend to take that approach to many things, including riding. It's not like I am not involved or give direction but, rightly or wrongly, I don't naturally try to guide every single step. I think a horse in trot should be able to carry forward in trot without nagging from me.
After the close encounter with the grouse my ride the next day was fabulous. Carmen was with me the whole time and I was very pleased with her. I kept the schooling short and sweet.
Sunday was raw and cold. I was waffling about riding but decided that I would regret not riding so I put on some warm layers and got Carmen ready. In the ring she was a bit tight but really not noticeably different then every other day. After getting a relaxed walk I warmed up the trot and then asked her to pick up a canter.
We were cantering through troll corner when suddenly she jumped sideways, then leaped forward and we were in full-on bolt. I could not get her to slow up. I did not say 'whoa' and I don't know why- in the moment it completely left my brain. Instead I got into a half-seat and steered her through a circle making it smaller and smaller until I could get her stopped. It felt like minutes but probably wasn't.
I took a deep breath and forced my heart back into my chest. That was a job in itself- my heart had clearly determined to find a new home. One where the person realized that she was on the other side of middle age and had taken up more sedate hobbies. Like knitting or cat collecting.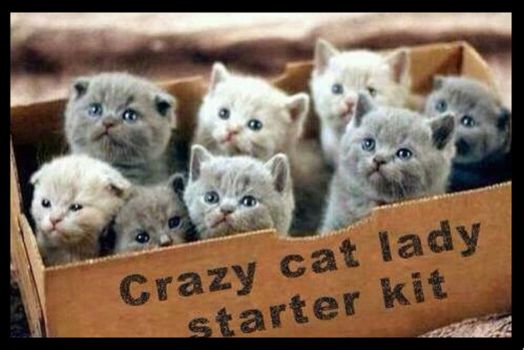 I took a deep breath and went back to work. With a decidedly shorter rein. I have no idea what startled her but suspect it was the grass rustling. I was not getting off.
I put her back to work asking her to bend and listen. She did another bolt int he same location which I expected and was ready. I pulled her into a one rein stop. Or I tried. We actually were cantering a 5 metre circle. I gave her enough rein to not fall over (and I hoped fervently that that wouldn't happen) but was not letting go. She was NOT carting me across the ring again.
It started to spit rain and that turned to ice pellets.
I didn't care. My ass was in the saddle and I was staying there.
I essentially went into micro-manage mode where I was controlling where all of her body parts were. At times it was downright ugly. I still didn't care. There was nothing there to cause the spooking (well nothing that wasn't always there). We were schooling goddamn it. Which makes me sound angry and I wasn't . I was a bit flustered, definitely frustrated by not angry and my emotions were under control.
More and more her ears were flicking back to listen to me. More and more as I put a leg on to ask her to bend or move over or leg yield or shoulder in she listened. When she stiffened and/or ignored the aid I made it stronger until she yielded.
I was bit brought down by the ups and downs of our rides lately. I do know that Carmen is used to me backing off when she gets really agitated and I am trying to change that conversation. Sometimes that means I am engaging more in horse shouting then whispering. And if you want to lecture me about that come on over and I'll put you on her. So much of riding is feeling the moment and trying to give the horse what they need even if they don't know what that is. Parenting was very similar.
I had been truly frightened by what happened. My first thought was that Carmen had never done that before. My second was that she had but I was usually off by the second leap. I stewed on it for a bit and sent a text to Karen (my life coach whether she wants to be or not):
After reading that I felt better.
But I really like straight lines.