2019 is not off to a stellar start. On New Year's Eve my daughter was admitted to hospital with a serious illness. She is still there but is recovering and I hope to bring her home in a day or two so I can take care of her and get some fat back on her bones. It was a scary time and I didn't have the heart or time to post. I did enjoy reading the posts though. They helped me pass the time in the hospital. I am so grateful for our healthcare system that has taken such great care of my girl. It is exhausting and Ed and I took turns being with her or being home.
sunrise the day before some weather was going to descend on us.
Love my little farmhouse.
However, sitting in hospital gave me lots of time to reflect on various things, including what I want to accomplish this year.
Emma
has been posting about focussing on 'process goals' not outcomes. I loved that whole idea so when I read her post (and other like it) it helped me bring some of my goals into focus. Emma, found these ideas on a post written by blogger
Matt Brown
.
Not that I think my goals in past years were 'bad' or anything. It just feels like I'm in a different place with where I want to go with my riding and horsemanship. Earlier this fall my goals were falling into the category of 'outcomes', like 'show second level' and 'try jumping'. And it's not that I don't want to do those things. I do. But if I don't meet those goals will my year be a failure? Maybe. It depends. It's not like I don't want to set a goal that makes me work and gives me focus. Which is where, as I understand it, the idea of a 'process goal' sets in. These are goals that have to happen in order for the larger goal to be met.
Heaven knows progress with horses can feel like the staircases in Hogwarts. Just as you think you are getting there, everything changes.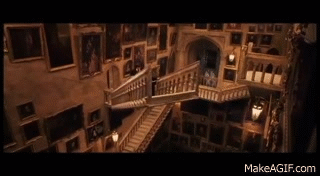 We all know that working with horses leaves many things out of our control. That means we need to focus on what we can control and spend less time fretting about what we can't.
With that in mind here are my goals for 2019:
The overarching goal is to build a strong relationship with Carmen built on trust and fun.
1. Build a foundation of relaxation with Carmen that we can take anywhere: shows, clinics, the woods, etc. I've started this process already. I ended up subscribing to Tristan Tucker's website. I was hesitant because it is expensive. However, they offered a payment plan over 12 months which makes it less than half the cost of a lesson per month. So I bit the bullet. So far I am getting some insight into how to work with Carmen and it is working. Carmen is now officially easier to give wormer to than Irish and he's pretty damn easy. For a mare that used to rear and carry on about it that's major progress.
1. A. Building a foundation of relaxation in myself. Carmen and I are very similar. I am naturally a high energy person and I need to learn how to control my own tension and body language. One that is independent of her energy. I need her to feed of my energy not vice versa.
basically we need to be more like Willow #lifegoals
2. Create a work flow that makes sense to both of us and is fun. I am going to move away from the 'you must master this thing' and more towards working on the things with the confidence that we can get there and accepting when it isn't perfect as long as it's progress. This also means stopping when we get it right and not fall into mindless drilling. This will include trail, obstacles, poles (maybe wee tiny baby jumps) and dressage. I'm going to move away from worrying if I am mastering the specific movements and worry more about the dressage pyramid itself.
3. Manage her diet and gut health- especially when I am exposing her to stressful things like trailering, shows, new places. I have my plan for when we travel. It may need some modifications but part of managing is being vigilant about her behaviour and what she may be trying to tell me.
4. Improve the independence of seat, leg and hand. This means getting more in shape and maintaining awareness in the moment. If Carmen is being pissy or resistant I need to look to myself first.
5. Keep learning: go to clinics (attend or audit), read, watch videos and take lessons. I am going to continue taking the trail clinics.
6. Spend more time with other horse people. I love having my horses at home but it can be a bit isolating. I want to get out and do things with them: go on a trail ride, ride in their ring, have them come to my place etc. I really want to see if I can organize a fun weekend for horse people. A weekend where we go away with our horses and play. No pressures, no clinics, just horses, food and wine (or beer, or ginger ale). Let me know if you are interested.
7. Go to shows and stretch myself. This may mean trying second level (Carmen can do all of it when she's relaxed so it's not a crazy idea).
8. Teach Carmen to self-manage: rather than it all falling to me about how she feels and reacts, I want to give her the tools to manage herself. You can think of this as increasing her confidence. This means that it's okay if she makes a mistake and for me to help her find the answer rather than give it to her.
I'm sure that there will be other goals that will crop up on a specific day and that's fine because I think that they won't be contrary to what I have above.
I hope these plans of yours include cookies.